Finished
Aug

23

2018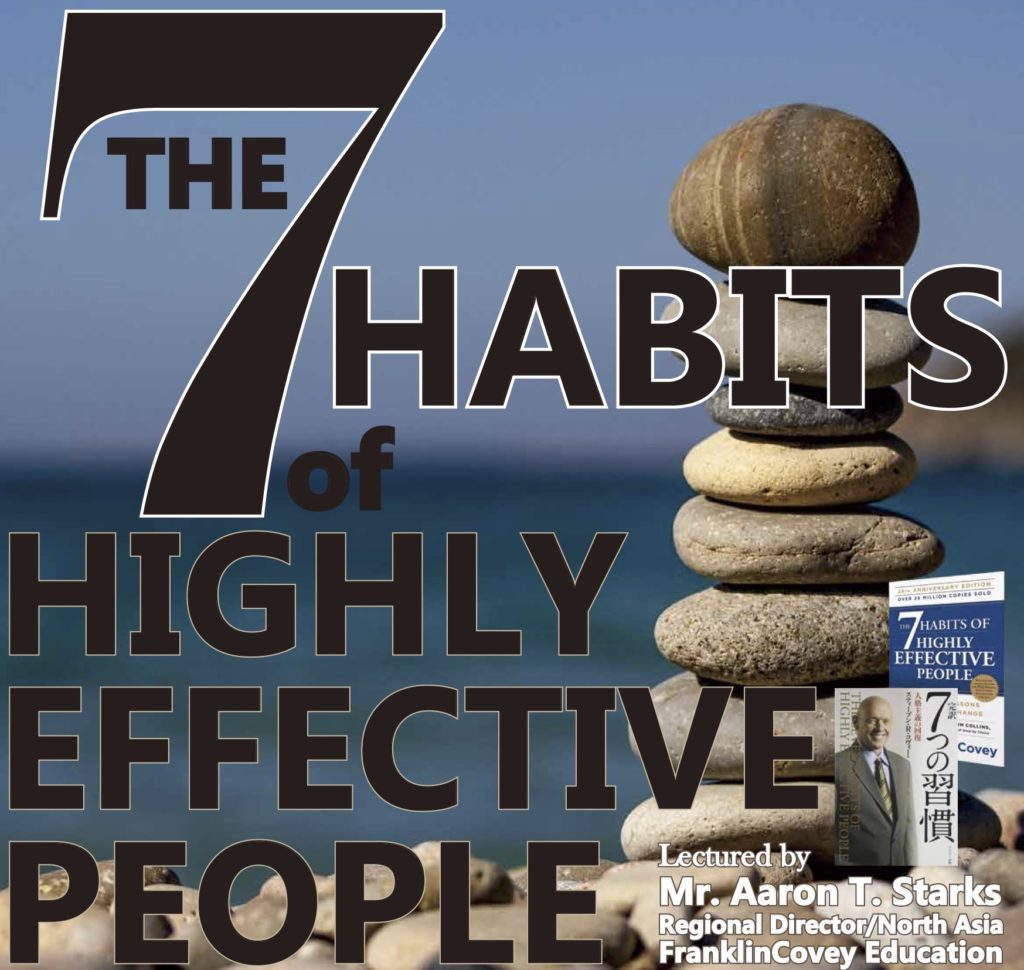 This transferable skills seminar is targeted for young researchers (MC, DC, PD, etc). The seminar will be conducted in English.
Come and join this seminar/workshop by Franklin Covey Japan, a premier executive training institution and the evangelist of The 7 Habits of Highly Effective People by Stephen R. Covey. If you want to be more effective, either in your research or in your life, you need to do it right. Behavioral change is an essential consequence of this type of seminar, thus the program will encourage you to reflect upon and observe deeper into yourself.
Because many of you are sensitive to improve yourself and are very highly motivated, the best selling self-help book written by Stephen R. Covey The 7 Habits of Highly Effective People may be very popular among you. Knowledge will emerge into Wisdom when you take "action" based on the knowledge. When it comes to "action," there is habitual practice that you would hardly change. This program will start with a seminar in which you will recall the knowledge of this book, and it will be followed by a workshop which will lead you to recognize what is the most effective habitual practice. If your schedule permits, please be sure to attend whole day to fully enjoy and capture the entire value of this program.
Habits are powerful forces in our lives. They determine our level of effectiveness or ineffectiveness. The purpose of The 7 Habits of Highly Effective People is to help you lead your life in a truly effective way. They represent a proven process of personal and interpersonal growth that can have an immediate and lasting impact.
As relevant today as when Stephen R. Covey first wrote them, The 7 Habits of Highly Effective People is based on principles of effectiveness that endure.
The 7 Habits 
Be Proactive
Begin with the End in Mind
Put First Things First
Think Win-Win
Seek First to Understand, Then to Be Understood
Synergize
Sharpen the Saw
If you apply even one of the 7 Habits today, you can see immediate results; but it's a lifetime adventure — a life promise. 

Stephen R. Covey
Lecturer
Mr. Aaron T. Starks, Franklin Covey Japan
Franklin Covey provides performance improvement services in more than 150 countries with their mission of enabling greatness in people and organizations everywhere.
Seminar date
8/23/2018 (Thu.) 10:00-18:00
Place
Frontier Research in Applied Sciences Building, 2nd Floor Seminar Room#2
Eligibility
Hokkaido University graduate school students (MC, DC), postdocs and faculty members who are comfortable with workshops in English.
Application deadline
8/20/2018 12:00
Max participants
40
How to register
Graduate students/Postdocs
You must be registered in the Hi-System. If you are not,
please register here
. 
Click here
 and scroll to the bottom of the page and click "Apply" to register.

Faculty/staff
Please register
using this form
. If you do not receive a confirmation e-mail within three business days after registering, please contact I-HoP.
Inquiries
I-HoP: International Human Resource Development Program
Front Office for Human Resource Education and Development
Hokkaido University
ihop@synfoster.hokudai.ac.jp
011-706-2157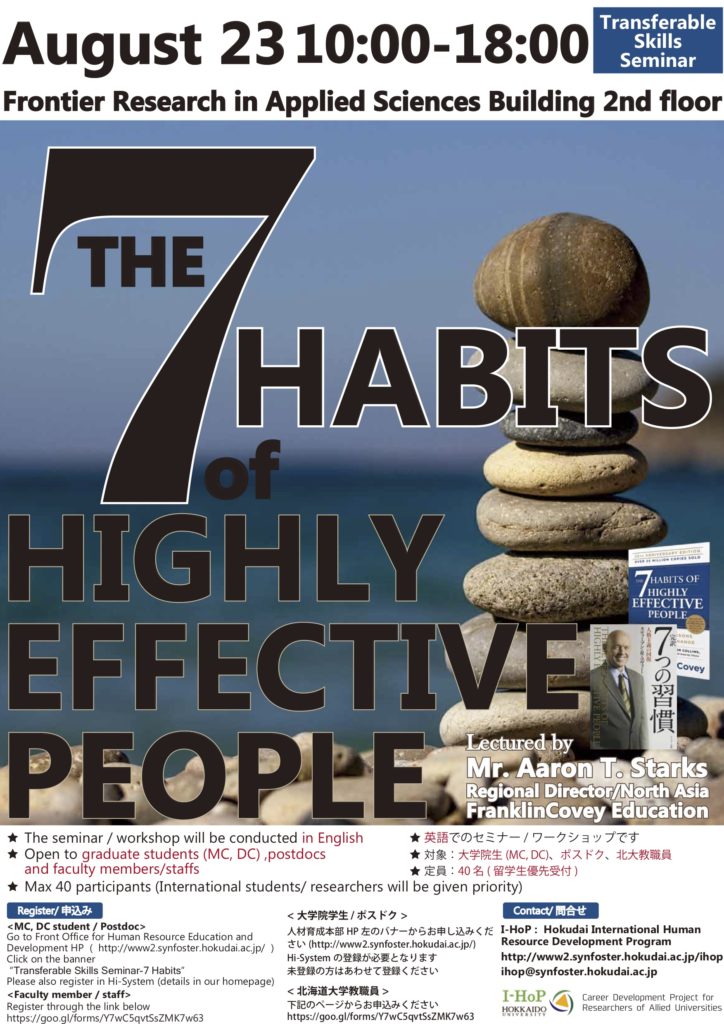 ---