Event | November 17, 2016
Finished
Nov

17

2016
This seminar is intended primarily for young researchers who are submitting a paper to an international journal for the first time. However, as this seminar will also touch on fundamental "dos" and "don'ts" when writing a scientific manuscript, and will include tips for preparing your cover letter for submission, experienced researchers should also find it beneficial and informative.
The lecturer, Greg Adams, is the Managing Editor at FORTE, which is Japan's leading science communications company and provides personalized, high-quality rewriting and translation services to Japanese doctors, researchers, scientists and engineers in the academic and corporate sectors.
This 90 minute seminar provides a detailed summary of all the essential information you need when preparing your manuscript , writing your cover letter, and corresponding with reviewers. The seminar will even include a short workshop in which you can have a recent abstract or executive summary of your paper edited by a professional.
Summary of Event Details
When: 16:30-18:00 on Thursday, November 17th 2016
Where: Seminar Rm. 2 on the 2nd floor of the Frontier Research in Applied Sciences building
Language: English
For more details of the event, please refer to the following flyer: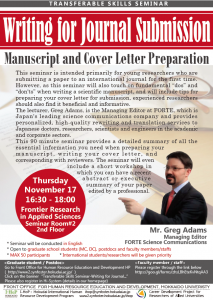 (click to get PDF)