University News | February 18, 2014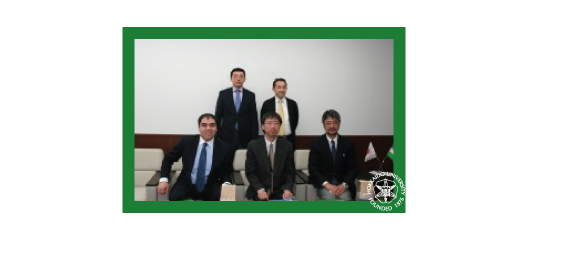 On February 13, Mr. Khamdamov Mirzoumid, Professor of Economics, International Economic Relations Faculty, UWED and Mr. Ismailov Aziz, First Secretary, Department of Human Resources and Higher Education Institutions (UWED), Ministry of Foreign Affairs of Uzbekistan visited the Office of International Affairs and discussed future cooperation and student exchange with So Kawanobe, OIA Deputy Executive Director, Masani Gomita, Director, and professor Tetsuhiko Takai of the Graduate School of Business and Administration.
The visitors relayed that because the grammatical structure of Japanese and Korean is similar to that of Central Asian countries like Kazakhstan and Uzbekistan, prospective Uzbek students to HU should not have such a difficult time with the language barrier.
Also, they strongly recommended us that HU staff should visit the World Heritage Sites in Samarkand and Bukhara. They were really proud of them!