University News | November 26, 2013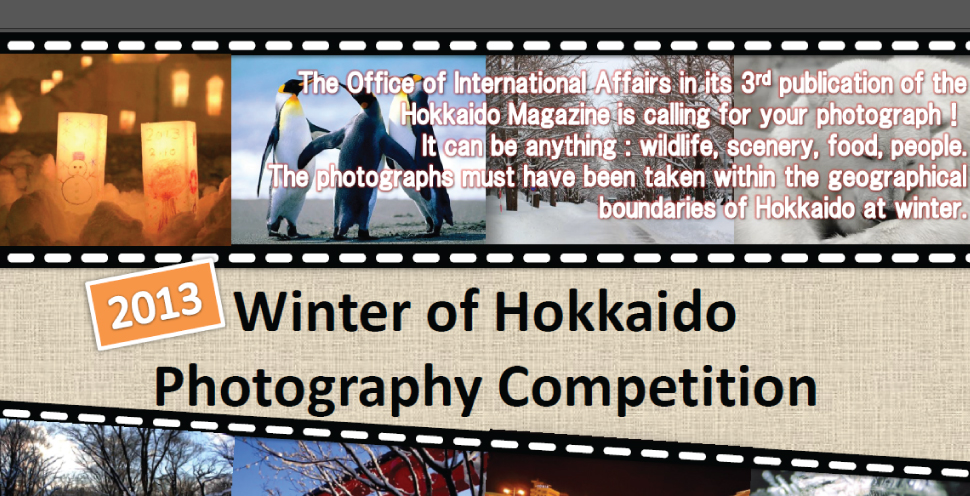 The Office of International Affairs in its 3rd publication of the Hokkaido Magazine is calling for your photograph!
It can be anything : wildlife, scenery, food, people around the theme of WINTER in HOKKAIDO.
The photographs must have been taken within the geographical boundaries of Hokkaido and be AROUND THE THEME OF WINTER!
DEADLINE :  FRIDAY,17TH JANUARY, 2014
If it's chosen, you can have it published in the Hokkaido University Magazine AND win a book voucher worth 10,000 yen.
Please submit your photograph with your full-name and faculty, to Support desk, Office of International Affairs.
Please also provide a short description of the photograph and what it means to you in English or Japanese. (50-100 words)
EMAIL ADDRESS : supportdesk@oia.hokudai.ac.jp
You may enter up to 5 photographs. Open to International Students and Researchers.
The winning photograph will be published in the Hokkaido University Magazine – Web and Print – 2013-2014 edition
Enquiries : Support desk 011-706-8071
CONDITIONS :
The photograph must be taken by you and be either a digital photograph or a high-quality scan. The entrant must be the sole author and owner of the copyright. By entering your photograph into the competition, you grant to Hokkaido University the right to use your images for promotion of the University and Hokkaido itself. Entrants must not infringe on the privacy rights, copyright or other rights of any person. The photographer will be credited whenever possible.
DIGITAL CRITERIA :
Uploaded Photos must be a minimum 1024 px longest side at 350 dpi. Uploaded Photos must be saved as JPEG, Files for upload must be no larger than 5MB
DIGITAL RESTRICTIONS :
Digital adjustments are only acceptable if limited to minor cleaning work (de-dusting), levels, color, saturation and contrast work. The faithful representation of what you saw at the time of the shot being taken must be maintained. Cropping is allowed. Note. Your personal data will not be used for anything else but this comp.