Research Highlight | July 14, 2021
This article was published in the Autumn 2020 issue of Litterae Populi. The full list of articles can be found here.
As the year 2020 has seen the global COVID-19 pandemic force changes to university education, the Center for Open Education has been playing a crucial role in supporting new methods of education delivery, such as online instruction, to protect university education.
The Center for Open Education (OEC) was established at the Institute for the Advancement of Higher Education in 2014 with the aim of supporting teaching and learning using ICT and expanding learning opportunities using Open Educational Resources (OERs). In 2015, the OEC established the e-Learning Department, whose mission includes the development of OERs, and established the Communication in Science and Technology Education and Research Program Department (CoSTEP Department). Despite their limited organizational sizes—each staff consists of only 10 members or so—the departments capitalize on their features in order to support Hokkaido University's initiatives to improve its education while promoting the appeal of learning at Hokkaido University in Japan and beyond.
Two departments supporting university education 
The e-Learning Department, which has been supporting online programs during the pandemic, has two main missions. One is to develop OERs that are freely accessible to anyone via ICT. Of late, open education, whereby university and other educational institutions offer learning opportunities on the internet, has proliferated and OERs have allowed Hokkaido University to offer its courses worldwide.
The e-Learning Department develops some 600 OERs for approximately 50 lectures every year. The staff's steadfast efforts to develop OERs in cooperation with course instructors have been raising the department's profile within HU. Many OERs are based on videos produced by staff members who have expertise in video recording, video editing, copyright compliance, and the like. Anyone on campus or elsewhere has free access to the Hokkaido University OpenCourseWare website, which offers resources in myriad humanities and science fields, ranging from lectures to extension courses provided by HU undergraduate and graduate schools.
The other mission of the e-Learning Department is the operation and management of the HU Education and Learning Management System (ELMS). To ensure its smooth use, the Department maintains and regularly upgrades the system based on requests from across campus.
The CoSTEP Department was formerly established as the Communicators in Science and Technology Education Unit, which operated from 2005 to 2010 with Science and Technology Promotion Adjustment Grants provided by the Ministry of Education, Culture, Sports, Science and Technology. The department has focused on three pillars: education, research, and practice regarding science and technology communication. Its educational activities center on the Communication in Science and Technology Education and Research Program (CoSTEP), which is touted by Professor Masahiro Matsuo, the OEC director, as becoming a "lifelong treasure" for students. This one-year liberal arts education program introduces students to the concept of science and technology communication and helps them gain fundamental skills in such communication. It attracts roughly 80 students from HU and elsewhere every year, and half of the student body is composed of people in the workforce, including company employees, local government employees, and faculty of other universities.
CoSTEP offers a regular course and an elective course. In the regular course, students are divided into teams and they organize events on campus and write articles about them. The elective course is offered on an e-learning platform to provide learning opportunities to many students, and it also includes face-to-face seminars held over the course of three days either in summer or fall. CoSTEP also has a training course for those who have completed the regular and elective courses.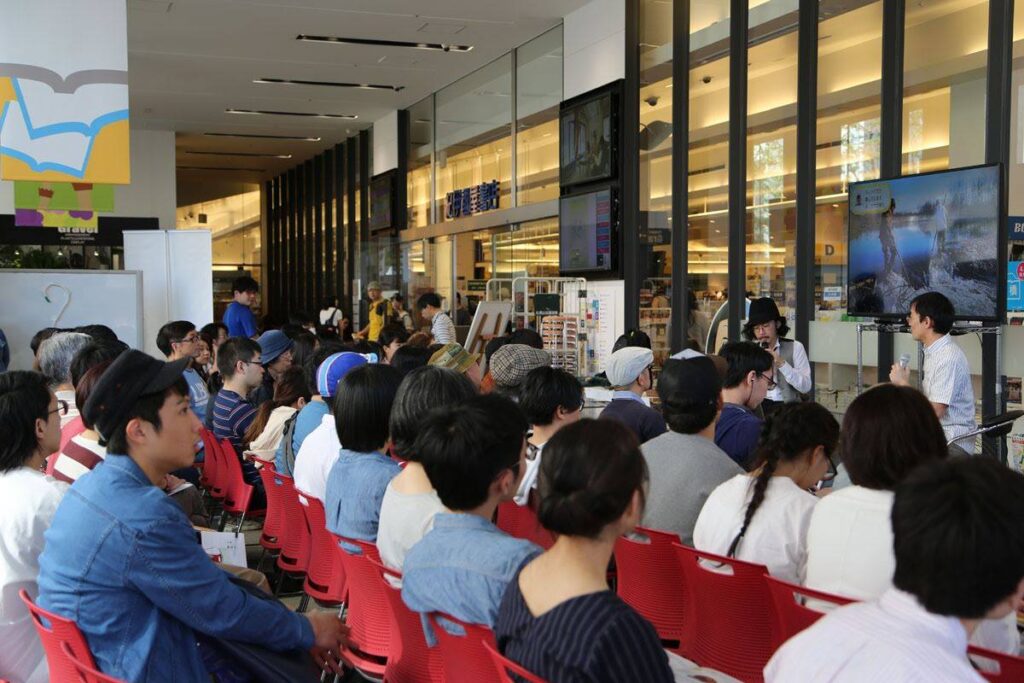 Activities central to the CoSTEP Department include the periodic organization of science cafés, which are events that serve as opportunities for learning and for practically applying knowledge, as well as for interacting with citizens under a scientific theme. Two of the six science cafés held annually are planned and organized by students. Before COVID-19 made it difficult to hold large gatherings, the Science Café Sapporo, held in Kinokuniya bookstore in front of Sapporo Station, had attracted more than 100 participants each time.
The CoSTEP Department, together with students, runs the Facebook page "Like! Hokudai." Although it is no easy task to simultaneously pursue education, publicity, and communication, articles concerning COVID-19 received more than 60,000 pageviews in total. 
Impact of the COVID-19 pandemic
In this way, the e-Learning Department and the CoSTEP Department have been engaged in their respective activities under the OEC umbrella. However, from March 2020, when the effects of the COVID-19 pandemic began to be felt at HU, the OEC took on the new mission of supporting online instruction, starting with building a framework for providing information and support for online teaching and learning.
The first task they embarked on was the establishment of an information-sharing system for online classes, through which the e-Learning Department provided the faculty, staff, and students with information on the basics of online classes, available tools and teaching methods, and the differences between simulcast and on-demand learning, as well as their advantages and disadvantages. The department regularly held information sessions about online classes, from basic to advanced. A total of 1,800 faculty members attended the sessions, with the related website receiving roughly 170,000 pageviews as of August 31, 2020. This suggests that the Department plays a crucial role in supporting online classes.
In the meanwhile, the e-Learning Department also poured more of its energy into maintaining the ELMS and enhancing its capacities, as it has taken on greater importance in supporting classes. Although the ELMS had just been migrated to a new system in March 2020, that move was not premised on the assumption that all courses would be offered online. While the system allowed the online preparation and delivery of textbooks and reference materials, these were intended to supplement face-to-face classes. Accordingly, the department modified the system to accommodate the new requirements without skipping a beat.
Despite incidents that forced services to be suspended due to system overloads, the staff pulled through by continuously monitoring and managing the server. Dr. Katsusuke Shigeta, associate professor and director of the e-Learning Department, says: "We hope to continue our work to provide information not just about how to use the system as an ICT tool, but also about how to use the system along with teaching methods, its advantages and disadvantages, how to determine and assess study conditions, and more."
The CoSTEP Department has also been affected by COVID-19, albeit differently. The department had taught and engaged in online and in-person practical activities, but it is now unable to hold face-to-face classes and events as it had previously been doing. The staff have decided to livestream science cafés via YouTube, answering questions using the chat box. "It's challenging, but we've come to many new realizations," reckons Dr. Shishin Kawamoto, associate professor and director of the CoSTEP Department. The positive aspects of online science cafés include an overwhelming increase in participants and lower barriers for those who feel out of their element when communicating face-to-face with others. While classes have moved online, available tools and functions remain limited, which makes it imperative to reimagine conventional ways of teaching and communicating, including the consideration of how to incorporate what had been practiced as face-to-face instruction.
The COVID-19 pandemic has raised expectations for effective communication in science and technology, but the faculty are calling on students to remain even-keeled with a calm, dispassionate view of their expertise and responsibility for providing information.
In terms of research, the CoSTEP Department has published feature articles on COVID-19 in its publication, the Japanese Journal of Science Communication, since mid- April. The five articles that have been published received over 17,000 pageviews in the past four months, much more than usual. Director Kawamoto remarks, "We should consider the ideal organizational structure and operations of the CoSTEP Department based on the assumption that infectious disease outbreaks, natural calamities and other incidents – that have made us recognize the importance of science and engineering communication – will continue to transpire."
The future of the OEC
With the impact of COVID-19 likely to continue over the coming months or longer, both departments plan to further expand the scope of their activities. For instance, the OEC inked a comprehensive partnership agreement with the Sapporo Community Plaza in August 2020 to provide an opportunity for interactions and learning through the organization of events featuring science, technology and art, whose interrelations have drawn attention of late. The e-Learning Department intends to develop educational resources for digital literacy as part of its ongoing joint research with the private sector. OEC Director Matsuo states, "The e-Learning Department has expertise in educational methodologies, whereas the CoSTEP Department excels in educational practice. Both are experts in developing the educational content that we need today. We look forward to further demonstrating synergy between them." OEC remains committed to maintaining the quality of university education and publicizing all that HU has to offer throughout Japan and elsewhere.
This article was published in the Autumn 2020 issue of Litterae Populi. The full list of articles can be found here.