Dr. Charles S. Vairappan
Professor of Natural Products Chemistry, Institute for Tropical Biology and Conservation, Universiti Malaysia Sabah, Appointed as a Hokkaido University Ambassador in April 2019
I was excited when Prof. Tatsufumi Okino (Faculty of Environmental Earth Science) suggested me to be HU Ambassador, as I saw it a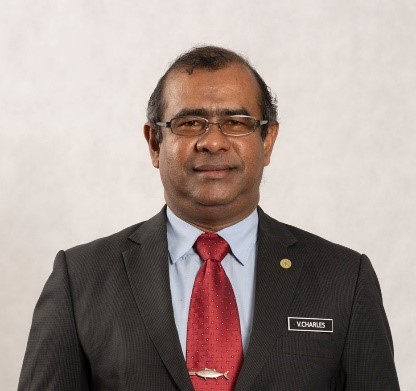 s an opportunity to contribute to Hokkaido
University. It would also provide a platform for me to be a bridge between my country and Hokkaido University.
I am very impressed with the overall "Frontier Spirit" demonstrated in endeavors and initiatives taken by researchers in Hokkaido University to be engaged with their counterparts
in other Asian countries, especially Malaysia. Now, we are planning for a "Global Career Design", where students in both Hokkaido University and Universiti Malaysia Sabah will be able to share experiences and learn from their counterpart in other countries. This is a very important approach for today's generation that is facing a crisis in learning and sharing experiences due to the pandemic. The whole approach to teaching and learning has changed from face to face to virtual. Hence, new ideas that could tap into aspects of "virtual and online platform" aided teaching are important and much needed.
A trilateral Webinar between Hokkaido University, Universiti Malaysia Sabah, and Kagoshima University was just concluded on the 18th Nov 2021. A total of three researchers from each of these institutions, shared their research findings and it was joined by many post-graduate students and researchers from Malaysia and Japan. We initiated this meeting to keep each other informed of our respective group's research progress and to explore new scope of research to complement each other.
I should say that the most striking features are the obvious differences between my home institution and Hokkaido University. The climate is totally different, Kota Kinabalu, where I live and teach, has a striking difference in climate from Sapporo. Sapporo has four distinct seasons whereas Kota Kinabalu has only sunny and rainy seasons. Also, the most unique feature is the difference in biodiversity. Most of my research collaborations with researchers in Hokkaido University involve different aspects of tropical biodiversity in Borneo. Kota Kinabalu is in the Sulu Sulawesi Coral Triangle region; the marine ecosystem is rich with
beautiful coral reefs, and these sustains a wide diversity of marine life. In the terrestrial ecosystem, we have tropical rainforest that is known as the hotspot for unique plants and animals. We have animals like the proboscis monkey and Bornean elephant that are unique to Borneo.
I have enjoyed my student years at Hokkaido University, and even more the experiences that I have had by collaborating with researchers from Hokkaido University. The aspirations and research directions projected by researchers in Hokkaido University are very refreshing and inspiring. We have been able to do interesting research projects and educate many students both from Hokkaido University and Universiti Malaysia Sabah. I would like to encourage readers and our students to understand the core values in the education and research culture of Hokkaido University, "Frontier Spirit." This is an important value to live by and it has inspired many to be motivated and aspire for the best in one's abilities.
北海道大学大学院地球環境科学研究院の沖野龍文教授から北海道大学アンバサダーの提案を受けたとき、北海道大学に貢献できるチャンスだと思い興奮しました。また、私が母国と北大の架け橋となるためのプラットフォームにもなると思いました。
私は、北大の研究者がアジア諸国、特にマレーシアの研究者と関わりを持とうとする努力や、取り組みにおいて「フロンティア精神」が示されていることに非常に感銘を受けています。現在、私たちは「グローバル・キャリア・デザイン」事業を計画しています。オンラインプラットフォームを介して北大とサバ大学の学生による共同イベントを開催することで、双方の学生が経験を共有し、学ぶことができます。これは、パンデミックという危機に直面している今日の世代にとって重要なアプローチです。教えることや学ぶことへのアプローチは、対面からバーチャルへと変化しています。そのため、バーチャルやオンラインプラットフォームを利用した新しいアイデアは重要であり、必要とされています。
2021年11月18日には、北海道大学、サバ大学、鹿児島大学の3者によるウェビナーを開催しました。3大学から計3名の研究者が研究成果を発表し、マレーシアと日本から多くの大学院生や研究者が参加しました。このウェビナーは、各大学の研究グループの進捗状況をお互いに報告し合い、新たな研究の範囲を模索するために始めました。
私が生活しているコタキナバルと札幌では、気候は全く異なります。札幌にははっきりとした四季がありますが、コタキナバルには雨期と乾季しかありません。また、最も特徴的なのは生物多様性です。私が北大と行っている共同研究のほとんどは、熱帯地域であるボルネオ島の生物多様性に関わる研究です。コタキナバルはコーラル・トライアングル地域にあるため、海洋生態系は美しいサンゴ礁に恵まれており、多様な海洋生物が生息しています。陸上の生態系では、ユニークな動植物のホットスポットとして知られる熱帯雨林があります。ボルネオ島特有のテングザルやボルネオゾウのような動物もいます。
私は北大での学生生活を楽しんできましたが、それ以上に北大の研究者との共同研究を楽しんできました。北大の研究者が掲げる志や研究の方向性は、とても新鮮で刺激的です。私たちは、興味深い研究プロジェクトを行い、北海道大学とサバ大学の両方から多くの学生を教育することができました。読者の皆さんや学生の皆さんには、北大の教育・研究文化の中核となる価値観である「フロンティア精神」を理解していただきたいと思います。これは生きていく上で重要な価値観であり、自分の能力を最大限に発揮するきっかけになります。