Dr. Gulmira Sultangalieva
Professor, Chair of Department of World History, Historiography and Source Studies, Faculty of History, Archeology and Ethnography, Al-Farabi Kazakh National University (Almaty)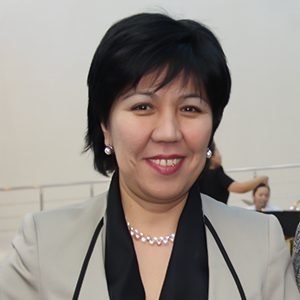 The first thing that came to my mind when I received the offer to become a Hokkaido University Ambassador was a feeling of honor and pleasant surprise. As an Ambassador, I want to contribute to collaboration between Hokkaido University and al-Farabi Kazakh National University, so that more people from Kazakhstan will become acquainted with the history and culture of Japan, and also with initiatives to develop curricula for foreign students at Hokkaido University, and facilitate the invitation of students and scholars from Hokkaido University to KazNU.
It is well known that Hokkaido University is an active participant in the international scientific community. Evidence of this can be found by looking at the Slavic Eurasian Research Center, which conducts specialized, interdisciplinary, comparativist studies on the history of empires, the Soviet Union, the post-Soviet space, Central Asia, and Eastern Europe. This Center is the initiator of the organization of scientific conferences, seminars with the involvement of leading scientists of the world, publications of scientific monographs in the areas of research center. I participated in the Foreign Visitors Fellowship Program, which gave me the opportunity to work in the Center for nine months from July 2007 to April 2008. I took part in the wonderful scientific Winter International Symposium "Asiatic Russia: Imperial Power in Regional and International Contexts" and related seminars, consulted with Japanese scientists like professors Tomohiko Uyama, Kimitaki Matsuzato, Norihiro Naganawa, and many others. I had the opportunity to present the results of my research at the annual session of the Association of Researchers on Russian History.
I am pleased to hear of the opening of the Hokkaido University Moscow Office, as I believe that this is an important step in establishing cooperation between Hokkaido University and universities not only in the Russian Federation, but also in the entire post-Soviet space, including Kazakhstan. I hope that this center will become a local meeting place of leading scientists of the post-Soviet space, to promote academic mobility of students, teachers, and scholars.
My first impression of the city of Sapporo was immediately expressed in one phrase: how could Sapporo have so much in common with the cultural capital of modern Kazakhstan, Almaty? Mountain panoramas, gardens, groves, boulevards, air saturated with the smell of flowers, and wide streets are just some of the similarities. The history of the development of these cities also has many similar points: both are young cities, the development of which began in the second half of the nineteenth century. The most surprising thing is that they are located at the same coordinate of northern latitude – 43°.
Finally, I am thankful to Hokkaido University for trusting me for the appointment as an HU Ambassador. I believe that Happiness comes out of contentment, and contentment always comes out of service, so serving as an HU Ambassador is a great honor for me.
グルミラ・スルタンガリエヴァ氏
アルファラビ・カザフ国立大学教授、2018年1月北海道大学アンバサダー就任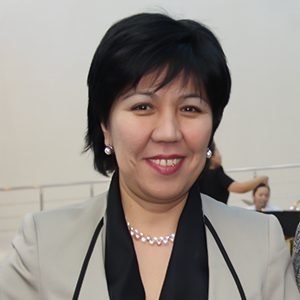 北海道大学アンバサダー就任の申し出を受けた時、嬉しい驚きと同時に、名誉であるという思いが込み上げました。北海道大学アンバサダーとして、北海道大学とアルファラビ・カザフ国立大学(KazNU)との連携を促進し、より多くのカザフスタン人が日本の歴史や文化に親しみ、北大の留学生向けカリキュラムの開発に関わるようになるように、そして、北大の学生や教員のKazNUへの招聘にも貢献したいと考えています。
北海道大学が国際的な研究者コミュニティーにおいて、活発な参画者であることは良く知られています。そのことは、スラブ・ユーラシア研究センターの活動からも明らかです。同センターは、帝国主義の歴史、ソビエト連邦とその崩壊後の情勢、中央アジア・東ヨーロッパの国々等を対象に、専門的・学際的・比較主義的研究を行っています。同センターの先導により、世界的な研究者が参加する学術集会やセミナーが開催され、また、多くの専門書が出版されています。
私は外国人客員フェロープログラムに参加し、2007年7月から2008年4月までの9ヶ月間、同センターに滞在する機会を得ました。その間、「Asiatic Russia: Imperial Power in Regional and International Contexts」という素晴らしい国際シンポジウムに参加し、関連するセミナーに出席したり、宇山智彦教授、松里公孝教授、長縄宣博教授といった多くの日本人研究者と意見交換したりすることができました。また、Association of Researchers on Russian Historyの年会では私自身の研究成果を発表することができました。
北海道大学がモスクワオフィスを開設することを知り、大変嬉しく思います。北海道大学がロシア連邦だけでなく、カザフスタンを含む旧ソビエト各国の大学と協力関係を築く上で重要な一歩になると確信しています。モスクワオフィスがこれらの地域の研究者が集う場となり、学生や教育者も巻き込んだ学術交流が促進されることを願っています。
札幌に対する私の第一印象は「どうしてこんなにカザフスタンの首都アルマトイと似ているのだろう!」という驚きでした。山のパノラマ、庭園、果樹園、大通り、花の香りで彩られた空気、そして広い道路―これらはその類似点のほんの一部にすぎません。札幌とアルマトイはどちらも比較的新しい都市で、その開発は19世紀の後半に始まった等、開発の歴史にも多くの共通点があります。そしてなにより驚くべきことは、この2都市が全く同じ北緯43度に位置するということです!
最後になりましたが、私を信頼し、北海道大学アンバサダーに任命してくださったことに感謝します。幸福感は満足感から、そして満足感は常に奉仕精神から生じるものである、と私は信じています。北海道大学アンバサダーとして活動することは、私にとって大きな名誉です。