Dr. Rashid Sumaila
Professor, University of British Columbia in Canada, appointed as a Hokkaido University Ambassador in November 2016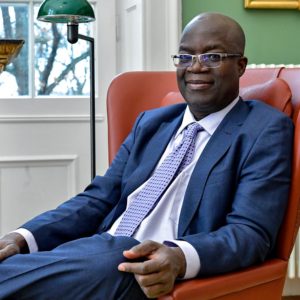 It was a pleasant surprise. I felt honored by the offer to be a Hokkaido University Ambassador because I've visited Hokkaido University several times in the past to attend the international symposium on sustainability science, and for jointly hosting the Nitobe College short-term overseas education program (NCOEP) at the University of British Columbia with fellow Hokkaido University teachers since 2014.
I love coming to Japan and Hokkaido, in particular, during one of my first visits, Professor Masahide Kaeriyama, decided to drive with me from Hakodate to Sapporo by road. I still remember this beautiful drive  with stops at hatcheries and laboratories that are doing amazing research. For me, it was really great to get the chance to drive such a distance as it allowed me to have a better feel of the country.
I have been receiving a group of 2nd and 3rd year Hokkaido University students and faculty for the NCOEP at the University of British Columbia for 3 years now. I've therefore come to know the quality of Hokkaido University's programs and therefore felt proud to be associated with the university. I really enjoy this and would like to continue because I believe it is a great opportunity for young Japanese students who want to have a globally-oriented career to get a great start at an early stage.
Sapporo, with an average temperature of -4°C in January is actually colder than Vancouver in winter, with an average temperature of +4°C — may be a surprise to many! The food is different even though Vancouver has an amazing collection of sushi restaurants. Finally, both Sapporo and Vancouver are great modern cities.
I think the Hokkaido University Ambassador and Partner program is a clever way of expanding the reach and visibility of the university worldwide. I expect the launching of the Institute for International Collaboration to enhance Hokkaido University's effort to engage with its communities both domestic and international. You have a fine university and the current path you are charting looks good for the future academic standing of Hokkaido University as a top world university.
( Litterae Populi Spring 2018 )
ラシッド・スマイラ氏
ブリティッシュコロンビア大学教授。2016年11月北海道大学アンバサダー就任。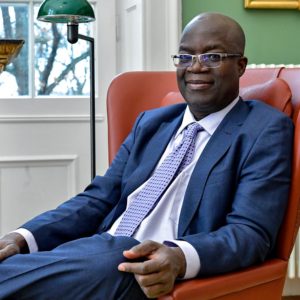 2014年以来、サステナビリティウィーク関係の国際シンポジウムや新渡戸カレッジの短期海外派遣プログラムのブリティッシュコロンビア大学側担当として協働を行っていた私にとって、北海道大学アンバサダー委嘱について打診されたのは、嬉しい驚きでした。
 初めて北大を訪れた時、帰山雅秀名誉教授が函館から札幌までドライブ移動してくれた時のことはとても印象に残っています。その途中で寄った鮭の孵化場や研究所、車窓から見た北海道の素晴らしい自然。私は北海道が大好きになりました。
 ブリティッシュコロンビア大学では、現在まで3年継続して、新渡戸カレッジの短期海外派遣プログラムの学生と教員のグループを受け入れています。これを通じて、北大のプログラムの質の高さを知るようになりました。このプログラムは、国際的なキャリアを展望し、入学後早い段階での準備開始を望む北大生にとって、素晴らしいプログラムだと思います。これからも協働を続けたいと思います。
 札幌と私の住むバンクーバーはどちらも近代的な都市であることは似ています。しかし、驚くかもしれませんが、北緯43度の札幌の1月の平均気温がマイナス4°Cに対し、北緯49度のバンクーバーはプラス4°Cと、大きな違いがあります。また、食べ物は随分異なりますが、沢山の寿司屋がある点は札幌に似ています。
 北海道大学アンバサダー・パートナー制度は、北大の世界的なプレゼンスと認知度を高めるためのとても良いシステムだと思います。これを通じて、国内外の北大コミュニティとの連携が強化されることを期待しています。また、北海道大学が現在辿っている道が将来的に世界トップレベルの大学に繋がるものと信じています。
(リテラポプリ2018春号)