Dr. Walter Muleya
Lecturer/Researcher, Biomedical Sciences, School of Veterinary Medicine, University of Zambia, Appointed as a Hokkaido University Partner in November 2016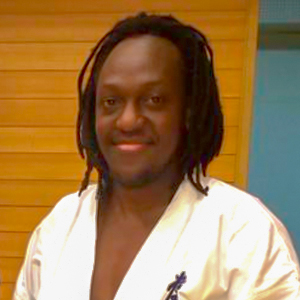 It was an honor to be considered a partner for such a prestigious university.
I was born in Kitwe town, Copperbelt province, Zambia. I am the second last born in a family of seven. I have two brothers and four sisters. I am married and have three children. After my undergraduate studies at the University of Zambia, I joined the Faculty of Veterinary Medicine, Hokkaido University in 2009, and I graduated with a PhD in September 2013. Prior to commencing my PhD studies, I also took a certificate course in Zoonosis control at HU.
I came to Japan mainly due to curiosity. I thought Europe would not be so different from my country especially in terms of some culture because Zambia was previously a British colony and have a lot of influence from Europeans. In short, I wanted to have a different experience. Japan was kind of mysterious for me and I was particularly interested in Japanese culture. On top of that, I had always been interested in the Japanese martial arts karate. Before coming to Japan, I had some prior training in karate in Zambia. However the school was different from kyokushin karate which is my current style of preference after I came to Japan.
After graduation, I have been involved in several collaborative projects with HU particularly with the Research Center for Zoonosis Control such as the SATREPS project and JICA project. I have closely collaborated with Prof. H. Sawa, who was my PhD supervisor. I had been to Nagasaki University's School of Tropical Medicine and Global Health (TMGH) for three months attending a course in public health and global epidemiology. My most recent stay in HU was in 2019 for 3 months. I appreciate the support by the JTS and JICA for all of my visits to Japan.
I think HU is a very nice and prestigious university with very wide spaces and very beautiful in spring. Japan is a nice and neat place overall but it required me a bit of time to get used to the cool weather, customs, etc. But, after you get used to Japan and its culture, it becomes a kind of addictive place to live in because we don't have to worry so much about things like crime due to its high safety records.
I would like to continue promoting HU in my country so that many Zambian people may also have the chance to experience what I did while studying at HU. HU produces cutting edge research and is a very attractive place for everyone to study new innovative things.
Sapporo and Lusaka (my current city of residence) are totally different. Lusaka has no snow during winter and only experiences two weather patterns namely; hot and rainy (Oct to April) and cold and dry (May to September). In terms of size and population, Lusaka and Sapporo have similar population sizes however Sapporo, with an area of 1,212 km2 is larger than Lusaka, whose area is only 418 km2.
Greetings from Zambia and it is a pleasure to be part of this diverse community. Continue doing what you do best and best regards.
* Science and Technology Research Partnership for Sustainable Development. It is a Japanese government program that promotes international joint research which based on the needs of developing countries. The program aims to address global issues and lead to research outcomes of practical benefit to both local and global society.
ウォルター・ムレヤ氏
ザンビア大学獣医学部講師・研究者、2017年2月北海道大学パートナー就任
 北海道大学のような名門大学の"パートナー"に任命していただき光栄です。
 私はザンビアのカッパーベルト州キトウェで、7人兄弟の6番目に生まれました。現在は結婚し、3人の子供がいます。ザンビア大学で学士号を取得した後、2009年に北海道大学大学院獣医学研究科に入学し、2013年9月に博士号を取得しました。博士号を取得する前には、北海道大学で人獣共通感染症管理の認定コースも修了しました。
 私が日本に来た理由は、主に好奇心からでした。異文化体験を求めていたのです。日本文化や日本の武道である空手に興味を持っていましたので、日本に来る前から空手の基礎修練をしていました。その時の流派は、来日以降に私が打ち込むことになる極真空手とは違っていましたが、現在はザンビア大学で講師・研究職に就きながら、市内の道場で極真空手の師範として活動しています。
 卒業後、私はSATREPS*やJICA(国際協力機構)のプロジェクトで、北海道大学人獣共通感染症リサーチセンターの澤洋文教授と緊密に共同研究を行ってきました。また、長崎大学の熱帯医学・グローバルヘルス研究科(TMGH)に3か月滞在し、公衆衛生と世界疫学のコースに参加したこともあります。直近では2019年秋から冬にかけて、北海道大学に3か月滞在しました。私の日本滞在は全てJST(科学技術振興機構)とJICA からの支援によるもので、深く感謝しています。
 北海道大学は非常に素晴らしい名門大学です。また、キャンパスは広大で春は特に美しいです。最先端の研究を生み出しており、誰もが新しい革新的な研究に取り組むことができる非常に魅力的な場所です。私が北海道大学で勉学に励んでいた時に経験したことを、今後、多くのザンビア人が経験できるよう、ザンビアで北海道大学への留学を推奨し続けていきたいと思います。
 札幌と私が住むルサカはまったく環境が異なっています。ルサカでは雪は降りませんが、暑い雨季(10月から4月)と寒い乾季(5月から9月)の2つの季節があります。また、人口はほぼ同じですが、ルサカの面積は418㎢で、1,212㎢ある札幌の方が大きいです。
 最後に、ザンビアから、この多様性にあふれた北海道大学コミュニティの一員であることの喜びをこめてご挨拶申し上げます。北海道大学の益々の発展を祈っています。
* 地球規模課題対応国際科学技術協力プログラム(Science and Technology Research Partnership for Sustainable Development: サトレップス)
国立研究開発法人科学技術振興機構(JST)、国立研究開発法人日本医療研究開発機構(AMED)及び独立行政法人国際協力機構(JICA)が共同で実施している、開発途上国の研究者が共同研究を行う3~5年間の研究プログラム。