Toward the Further Development of Asia's Final Frontier
Dr. Pho Kaung, Rector of the University of Yangon, and Dr. Kyaw Naing, Pro-Rector of the Yangon University of Distance Education, are active as Hokkaido University Ambassadors in Yangon, the former capital city of Myanmar, which is under a remarkable construction boom and phenomenal development.
Dr. Pho Kaung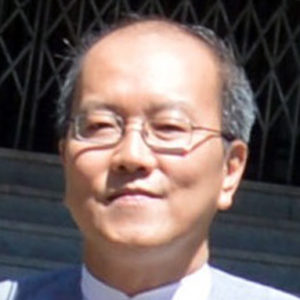 Received a PhD in Science [Physics] at Hokkaido University in 1995
I am honored to have been se- lected as a Hokkaido University Ambassador. The University of Yangon is my first alma mater, while Hokkaido University is my second. During my four years at Hokkaido University, I would walk along Poplar Avenue with my friends and sit on the grass near the brook reading books. I would also bury myself in my studies late into the night and assist lectures as a TA. Although I found myself under a tremendous amount of pressure carrying out my research, I was able to achieve satisfying results. I deepened my scholarly interests and acquired knowledge that can be used to contribute to society. This is the most important thing I learned at Hokkaido University.
I now serve as Rector at the University of Yangon, one of the foremost educational institutions in Southeast Asia. Its campus is architecturally important and attracts attention from not only within Myanmar but also elsewhere as a microcosm of unique plants and animals. Fifty years of virtual national isolation battered the University of Yangon, but graduates, university leaders and the national government are uniting to revitalize the university and reclaim its past glory.
The University of Yangon has already participated in research collaborations with Hokkaido University, for example with Hokkaido University's Space Mission Center on the Asian Micro-satellite Consortium(AMC). Faculty members of the University of Yangon have also participated in symposiums held by Hokkaido University. Academic exchanges like these have started, and going forward we will strive to deepen the relationship between our universities and relay the results to our local residents and the entire nation. These and other efforts as Hokkaido University Ambassadors will be recognized accordingly in the future.
Dr. Kyaw Naing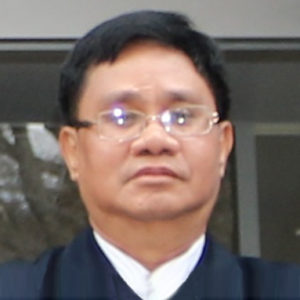 Received a PhD in Science [Chemistry] at Hokkaido University in 1995
Hokkaido University is my sec- ond home as a scholar. It is a great honor to have been selected as a Hokkaido University Ambassador. I spent four years at Hokkaido University, including my days of intensive language study at the International Student Center (today's Center for International Education and Research). While studying the language, I also learned Japanese customs and traditions. I am committed to using the experiences and knowledge I acquired at Hokkaido University for the development of my university in Myanmar.
With the aim of building a Myanmar Hokkaido University alumni network, I have begun making a list of Hokkaido University alumni residing in Myanmar. Based on this list, I plan to invite all alumni to attend a meeting where I would like to study how we can raise awareness of Hokkaido University in Myanmar through activities such as creating brochures. I plan to provide a brief lecture on Hokkaido University to students and faculty members at Yangon University of Distance Education to increase interest in studying at Hokkaido University. Together with Rector Pho of the University of Yangon, I also plan to hold a large-scale event for students and faculty members in the city.
There is also a plan under way to support and facilitate exchanges with Hokkaido University researchers and students who visit Myanmar for research. We will consider providing opportunities for Hokkaido University students to talk with local students and chances for Hokkaido University researchers to attend seminars and group discussions in their research fields with researchers in Myanmar.
( Litterae Populi [English Version] Spring 2017 )
「アジア最後のフロンティア」の更なる発展に向かって。
 建設ラッシュが続き、目覚ましい発展を遂げるミャンマーの旧首都ヤンゴン。北海道大学アンバサダーとしてヤンゴン大学学長のポー・カウン氏とヤンゴン放送大学副学長のキョー・ナイ氏が活躍されています。
ポー・カウン氏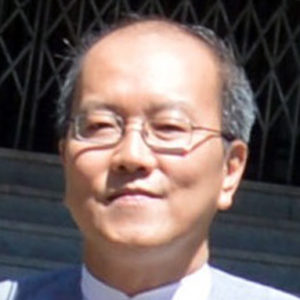 (1995年、北海道大学で理学博士号を取得。専門は物理)
 北大のアンバサダーに選ばれたことは名誉なことです。ヤンゴン大学は私の第1の母校ですが、北大は第2の母校だからです。在学中の4年間は、友人とポプラ並木を歩いたり、小川の近くの芝生に座って読書したりしました。また、深夜まで研究に没頭したり、TAとして講義の補助もしました。研究成果へのプレッシャーもありましたが、満足する結果を得ることができました。社会に貢献しうる学識や見聞を深めたことが北大で学んだ最も重要なことです。
 私は現在、東南アジア有数の教育機関、ヤンゴン大学で学長を務めています。そのキャンパスは建築的にも貴重で、「独特な植物・動物のマイクロコズム(小宇宙)」として国内外の注目を集めています。約50年にわたる事実上の鎖国で疲弊したヤンゴン大学ですが、卒業生や大学首脳をはじめ、国が一丸となって大学を活性化させ、過去の栄光を取り戻すための取り組みを行っています。
 既に、本学は北大宇宙ミッションセンターのアジア・マイクロサテライト・コンソーシアムに参加するなど、北大と共同研究を行っています。ヤンゴン大学の教員が北大のシンポジウムに参加するなど、2校間の交流も始まっています。このように両校の関係を深化させ、その成果を市民や国に発信することによって、北海道大学アンバサダーとしての我々の取り組みが評価されていくでしょう。
キョー・ナイ氏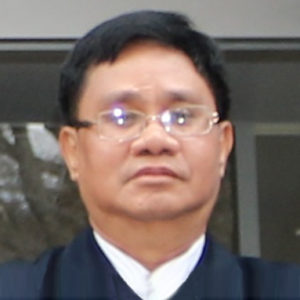 (1995年、北海道大学で理学博士号を取得。専門は化学)
 北大は学者としての私の第2の故郷です。北大のアンバサダーに選ばれたことは大変名誉なことです。北大では、留学生センター(現在の国際教育研究センター)での集中語学研修も含め、4年間過ごしました。語学研修では、日本の習慣や伝統についても学びました。北大で得た経験や知識をミャンマーの大学の発展に活かしていきます。
 最近、「ミャンマー北大同窓生ネットワーク」の構築を目指し、ミャンマー在住の北大同窓生の名簿作りに着手しました。この名簿をもとに、全同窓生に会合の案内を出す予定です。会合では、北大に関するパンフレットの作成準備をするなど、どのように北大の認知度をミャンマーで高めていくかを検討したいと考えています。学生や教員向けに北大についての簡単な講義をヤンゴン放送大学で行うことを計画しており、北大留学への関心を高めたいと思います。また、ヤンゴン大学のポー学長と一緒に、市内の大学の学生や教員向けの大規模なイベントを開催することも計画しています。
 一方、研究などでミャンマーを訪れる北大の研究者や学生への支援や交流も計画しています。北大の学生には、現地の大学生と対話する機会の提供を、また、北大の研究者にはミャンマーの研究者との各研究分野に関するセミナーやグループ討論の開催を検討しています。
(リテラポプリ日本語版2017年春号)