HU Ambassador Prof. Bakhtiyor Islamov holds special seminar and meeting on collaborations between HU, Russian, and CIS universities during Hokkaido University visit (Sep. 27th, 2018)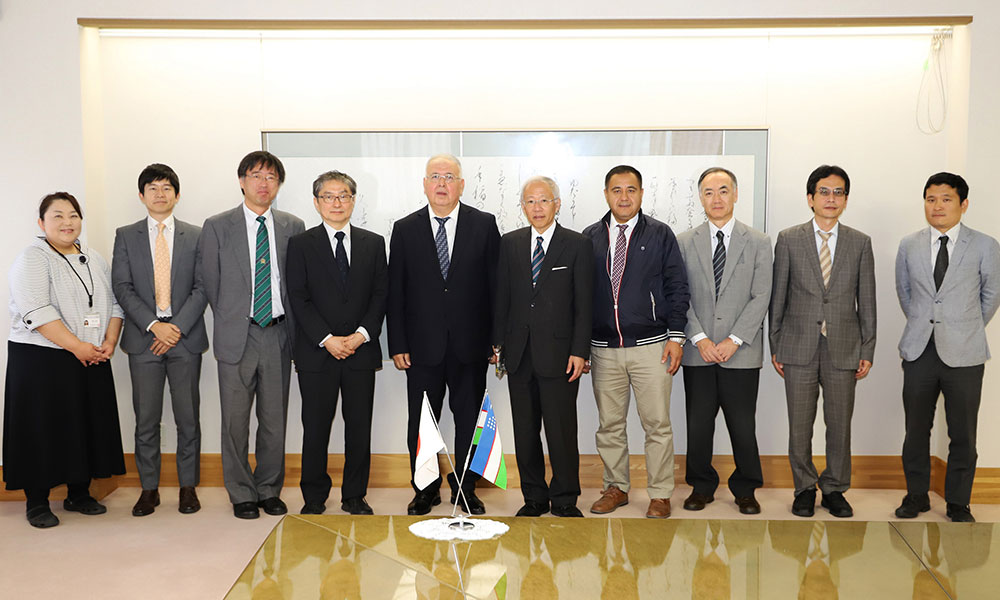 On September 27th, 2018, an informal meeting was held between the Hokkaido University Ambassador from Uzbekistan Professor Bakhtayor Islamov, and Deputy Governor of Uzbekistan's Fergana Region, Dr. Muksinkhuja Abdurakhmonov.
Professor Islamov is a scholar of transition economics, and belongs to the Plekhanov Russian University of Economics, Tashkent and the Tashkent State Economics University. He is not only a researcher with a long list of published works, but also the former Uzbek Ambassador to Russia and Uzbekistan's former Deputy Vice Minister of Foreign Affairs.
Professor Islamov has previously lectured at Hokkaido University's Slavic–Eurasian Research Center and the Graduate School of Economics and Business as a Foreign Invited Teacher. As a part of this position, he made large contributions toward the inter-university exchange agreements with Uzbekistan's University of World Economy and Diplomacy and toward international student exchanges between Uzbekistan and Japan.
Dr. Abdurakhmonov, Deputy Governor of Fergana, is an HU alumnus who received his PhD from the Graduate School of Economics and Business. The capital of the Fergana Region, Fergana City, is the home of Fergana State University, an institute for higher education that provides the best program for Japanese language education in Uzbekistan.
Other attendees at the meeting included Professor Masanori Kasahara (Executive Director, Vice President), Professor Shinichiro Tabata (Director of Europe Office in Helsinki), Professor Kazuo Machino (Faculty of Economics and Business), Professor Tomohiko Uyama (Slavic–Eurasian Research Center, Associate Professor Masato Hiwatari (Faculty of Public Policy), and Prof. So Kawanobe (Deputy Director of the Institute for International Collaboration).
HU representatives expressed gratitude for the efforts toward collaboration and cooperation that Professor Islamov has provided, and expressed to Professor Islamov their hope for continuous cooperation in promoting the educational and research collaborations between HU and Uzbek universities. Professor Islamov pledged his cooperation for not only collaborations between Uzbek, Russian and CIS (Commonwealth of Independent States) universities, but also for the recruitment of excellent students from Russia and the CIS region to study at HU.
Through this meeting, we expect to continue to strengthen the educational and research exchange activities between HU and Uzbek institutions, as well as the Plekhanov Russian University of Economics and CIS countries.