HU Ambassador Wilhelm Hagen's visits Sapporo in time for beautiful autumn leaves(Oct. 12th, 2018)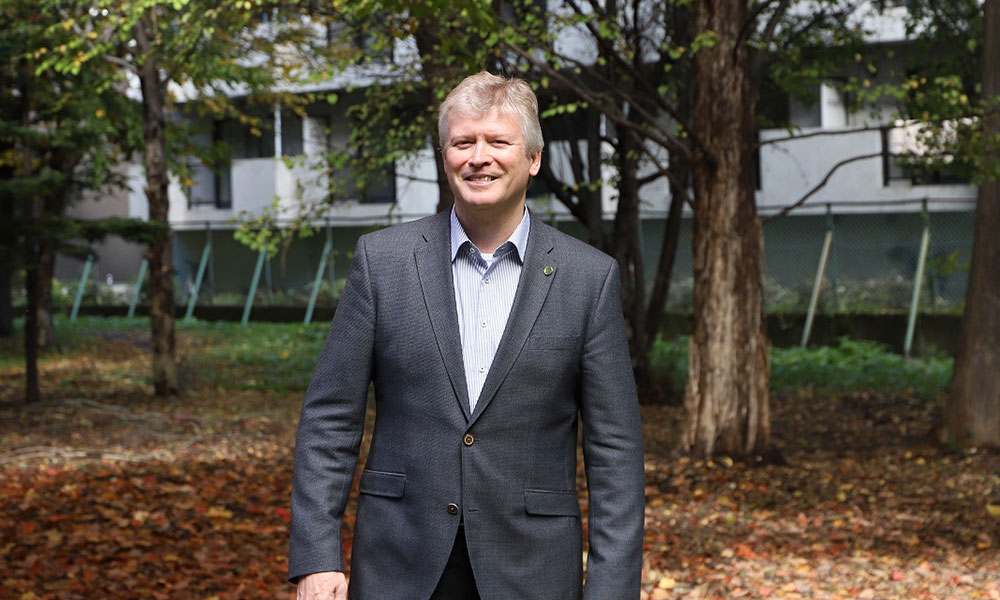 On October 12th, 2018, HUAP Coordinator Naomi Takeshima sat down with University of Bremen Professor and HU Ambassador Dr. Wilhelm Hagen, to discuss his ongoing research collaborations with Hokkaido University and his initiatives to inspire HU students to study at U. Bremen.
Naomi Takeshima (NT): What type of program did HU invite you to participate in?
Professor Wilhelm Hagen (WH): The program is in the framework of an international master's program, called the International Antarctic Institute (IAI), which consists of many institutions and universities worldwide and has been going on for many years. I am grateful to Prof. Manabu Fukui, now director of the Institute of Low Temperature Science (ILTS) at HU, who approached me to become lecturer in the IAI program at HU, established by ILTS. I first came to Hokkaido University in 2011, and I have been coming here to give lectures every year since. It's an ongoing activity. Together with Prof. Blatter from ETH Zurich we provide discussion classes on marine biology and glaciology in the polar regions with a focus on the Antarctic, and each student presents a climate change-related talk based on what they learned. They only have a few days to prepare, and they have 5-10 minutes to present in English. Yesterday we had our talks for 3 hours, and it was very impressive, with students giving their talks on different fields. 
NT: How many days will you stay in Sapporo this time?
WH: There was a bit of trouble with my airplane. A bird hit the plane engine while we were on the runway, so everyone had to de-board and return to the terminal. Everyone's schedule had to be revised, and I ended up losing one lecture out of four that I was supposed to deliver. But that's the way it goes sometimes!
NT: How many students usually take part in your seminars each year?
WH: It depends, but I think this time we had 10. It's usually around a dozen or so students, but we also implemented a digital class, where students at the Hakodate Campus could also listen to me. It went well.
NT: Have you ever had the chance to visit the Hakodate Campus?
WH: Yes, I went twice. I really enjoyed it. I gave a talk there and talked with the faculty members. I have some continuing interests with the Hakodate Campus; there is one professor, Sei-Ichi Saito, who used to be in Hakodate and was until recently the director of the Arctic Research Center, so we are in very close contact. I was thinking that next time I come to Hokkaido I would like to spend a bit more time here, maybe one week in Hakodate and then move to the Sapporo Campus afterwards. Hakodate is also a nice place and I like it.
NT: Has there been a lot of interest from Hokkaido University students about studying in Bremen?
WH: I brought some information material on how to study in Bremen and some of the students I spoke to were asking questions, so it seems quite promising. We will see how it turns out.
NT: Can Japanese Hokkaido University students study in English at U. Bremen?
WH: Yes. We have many international programs, usually at the master's level, all taught in English. In marine biology for example we offer 3 different master's courses focusing on different topics. At our faculty we have other master's programs in biochemistry, ecology, neurosciences and material chemistry, and in various other faculties also. There are many English courses offerings, so it's no problem to study in English. There are not many Japanese students now, but we offer summer courses and language courses, where students can come for a few weeks and learn what Bremen is like.
We would like to thank Professor Hagen for taking the time to talk with us, and we wish him good luck in his upcoming research ventures!