A memorable experience: HU Ambassador Hanny Wijaya on her recent visit to Sapporo during the Hokkaido Earthquake. (Sep. 28th, 2018)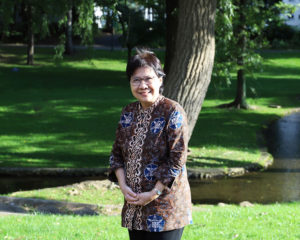 Professor Hanny Wijaya, a Hokkaido University Ambassador from Indonesia, recently visited Sapporo on business. During her one-month long stay, Professor Hanny lived in a university guest house for foreign researchers, and on September 6th was caught in the 2018 Hokkaido Eastern Iburi earthquake. During a casual meeting over coffee at the HU Elm Information Center, HUAP Coordinator Naomi Takeshima chatted with Professor Hanny about her experience.
Naomi Takeshima (NT): Why did you come to stay in Sapporo for one month?
Hanny Wijaya (HW): I am receiving the JSPS-BRIDGE AWARD this year for doing light research. I was also attending the 50th Anniversary of the laboratory that I graduated from, enhancing collaboration with several stakeholders, and paying courtesy calls to some key associates.
NT: What was the guest house like?
HW: Well, it was not a luxury unit, and it was a little bit far from the Faculty of Agriculture, but it had a kitchen and private bathroom, which was all I needed. The distance also gave me a good opportunity to get some exercise by walking or biking (my Indonesian friend lent me a convenient bicycle!). The cost was very reasonable, and the managers were very caring and offered warm, friendly service. Overall, I enjoyed my stay in the guest house.
NT: What was your experience like in the guest house after the earthquake?
HW: It was an unforgettable experience. To be honest, I spent several uncertain days without electricity and limited communication since I had no WiFi connection in the guest house (I had LAN to access the internet through my notebook, but because of the blackout I couldn't use it). The guest house manager tried her best to inform us about every update, but unfortunately her transistor radio was not working. I visited the campus every day because I had several meetings, appointments and experiments to be handled. The campus was without power and very dark as well. During the disaster, once again I saw the great wisdom of Japanese people managing during a period of "hisai seikatsu" (life after a disaster). I really respected the way they faced their problems and still showed great tolerance for each other. The desire to help each other to overcome the constraints of the earthquake was so amazing. The best display was the great efforts of all people in charge of managing the crisis to do their jobs to make the situation better. I hope the Indonesian and global community will be able to learn from this behavior, and I am grateful for my daily life more than ever after this experience.
NT: Do you have any other comments about your stay?
HW: This was a very productive trip. I enjoyed every moment of my stay, and visited many places which brought back sweet memories, including Akarenga, Tanuki Koji, Odori Park for the Autumn Festival, the beautiful HU campus, trips to the countryside, hot springs, yummy food, and some fruitful work involving research and the start of mutual collaborations. Sapporo has already become my second hometown, and I hope more fellows from all over the world will be able to visit HU and create their own valuable experiences as a HUAP.