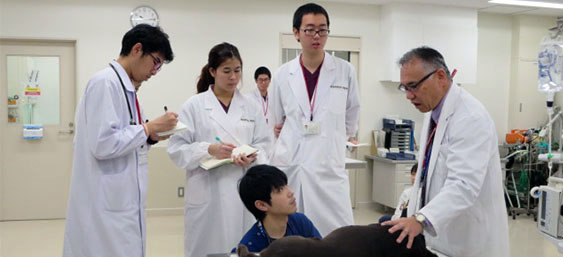 One country alone cannot effectively address issues such as the control of infectious diseases, the safety of food and environmental conservation. The safety and security of citizens need to be considered and ensured within a larger context, or under an Asian or other international framework.
The ultimate goal of the Collaboration of Veterinary Education Between Japan and Thailand for the Sound Development of Asian Countries (CVE) is to build a base for veterinarians and veterinary researchers specializing in quarantine, public health and animal medical care in Asian countries, in order to deal with said issues by making use of their global awareness and advanced knowledge and skills. This base should be also useful in prompting solutions to problems within the countries where the problems have arisen.
In this project, Japan (i.e., Hokkaido University, Rakuno Gakuen University and the University of Tokyo) and Thailand (i.e., Kasetsart University and Chulalongkorn University) will develop a system for exchanging students and transferring credits between the universities of the two countries, with the aim of strengthening partnerships among schools of veterinary medicine. This initiative will eventually produce a desirable result in the form of an increase in the level of veterinarians across Asia on the basis of the ASEAN International Mobility for Students Programme.