Event | February 26, 2014
Finished
Feb

26

2014
The Special coordinated training program for Sustainability Leaders and Sustainability "Meisters" (StraSS) invites you to join them as they review their activities over the last five years and explore the next stage of advancement for sustainability in a globally distributed network.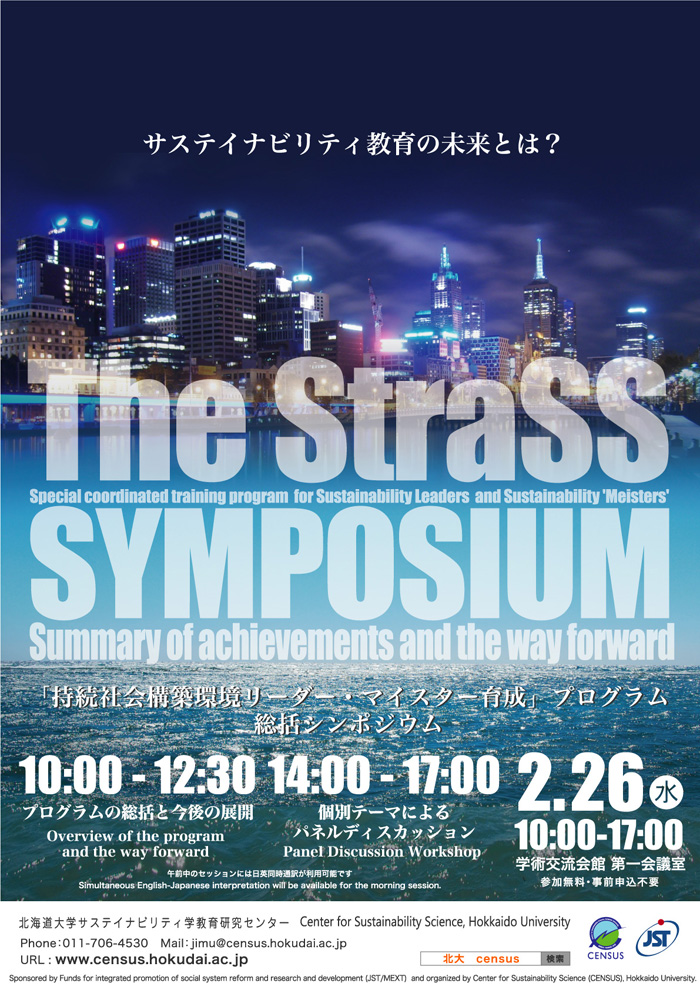 The strategic environmental leader training program began in 2009 at the Center for Sustainability Science (CENSUS) with the financial support of the Japan Science and Technology Agency (JST). This program aims to foster new professionals that will have a holistic and sustainable mind-set as well as practical skills in their professional graduate education. Since the program's inception, this inter-disciplinary post-graduate course has vigorously developed and grown with other institutions of higher education in Japan and overseas.
Symposium Details
February 26, 2014 (Wednesday)
10:00-17:00
Meeting Room 1, Conference Hall, Hokkaido University
Registration begins at 9:30 AM
Click to register: Registration Form
Morning session:10:00-12:45
Overview of the program and the way forward
10:00-10:10
Welcoming remarks
(Yasuhiro Yamanaka, Professor/ Director, Center for Sustainability Science (CENSUS))
10:10-10:20
Opening address
(Kojun Yamashita, Guest of honor and Program Officer, Japan Science and Technology Agency)
10:20-10:35
Overview of StraSS program: summary of the experiences for the past 5 years -Toward assuring sustainable development for all regions and nations of the world
(Noriyuki Tanaka, Professor/ Vice Director, CENSUS)
10:35-11:00
Keynote speech: Graduate Program in Sustainability Science – Global Leadership Initiative: A New Educational Challenge Towards Sustainable Society
(Takashi Mino, Professor, Department of Environmental Studies, Graduate School of Frontier Sciences, The University of Tokyo)
11:00-11:15
Guest speech: Human Capacity Building for Sustainable Development of Noto's Satoyama and Satoumi GIAHS (Globally Important Agricultural Heritage Systems)
(Koji Nakamura, Center for Regional Collaboration, Project Representative, The Satoyama Satoumi Project, Professor/ Deputy President, Kanazawa University)
11:15-11:30 Break
11:30-11:50
Presentation of educational activity in StraSS program: Summary of StraSS courses
1) "Leadership" and "leadership education" for Sustainable Science (Gaku Ishimura (CENSUS))
2) Instilling cultural literacy in students through a blend of classroom and IT approaches (A.R. Chittenden (CENSUS))
11:50-12:30 Presentation by overseas partner universities
1) Zhejiang University, China: Building the Capacity for Sustainable Development through International Training and Education Networks (Xujun Ye)
2) University of Palangka Raya, Indonesia: Sustainability Education at Palangka Raya University (Sulmin Gumiri)
3) University of Gadjah Mada, Indonesia: Building Innovation Learning and Promoting Sustainability Science and Practice (Suadi)
4) National Cheng Kung University, Taiwan: Sustainability Education in National Cheng Kung University, Taiwan: Current Status and Future Perspectives (Yasuhiro Fukushima)
12:30-12:45
The way forward, summary and closing of the morning session
*Simultaneous English-Japanese interpretation will be available for the morning session.
Afternoon session: 14:00-17:00
Thematic discussions
14:00-15:45
Parallel discussion:
Session 1: Beyond strategic environmental leader program -Toward fostering new leaders for global sustainability-
(Chair: Noriyuki Tanaka, CENSUS (Meeting Room 1))
Session 2: Opportunities for capacity development to build a sustainable society through cooperation among government, industry and academia
(Chair: Mitsuru Osaki, CENSUS (Meeting Room 3)) *This session is in Japanese only
Session 3: Networking of Environmental Leader students and alumni
(Chair: Devon Dublin, CENSUS (Meeting Room 4))
16:00-16:50
Plenary and general discussion (Meeting Room 1)
(Chair: Noriyuki Tanaka, CENSUS)
16:50-17:00
Closing of the symposium
(Noriyuki Tanaka, CENSUS)
CENSUS, Hokkaido University, N9W8 Sapporo, 060-0809, JAPAN
TEL: +81-11-706-4530, FAX: +81-11-706-4534