University News | July 13, 2022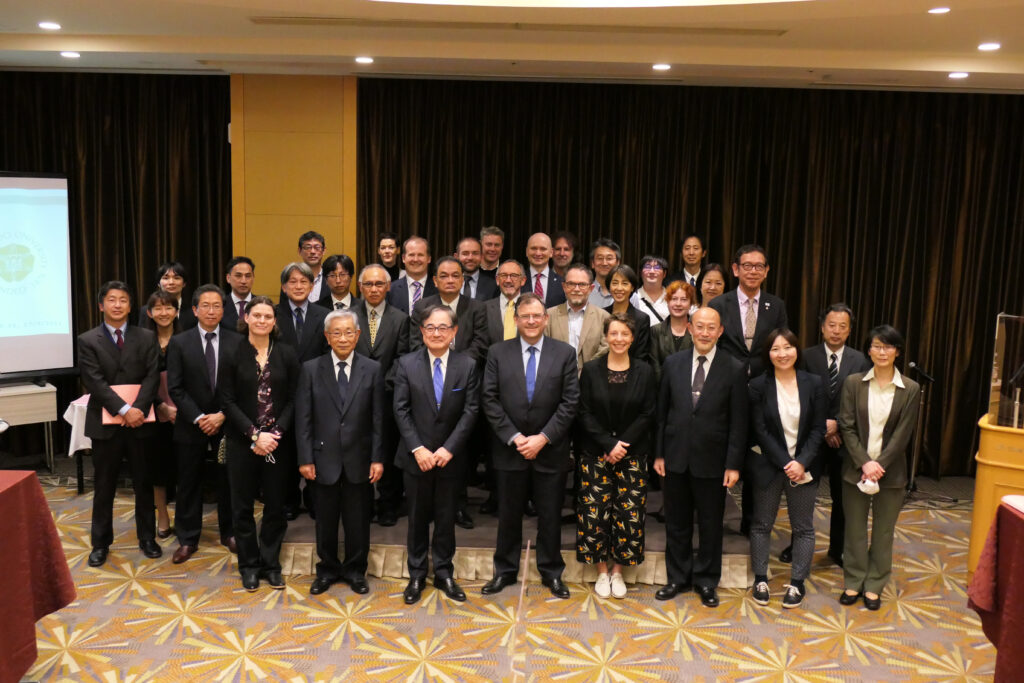 On 27 June, Hokkaido University (HU) welcomed a delegation from The University of Melbourne (UoM) led by Vice-Chancellor Duncan Maskell on the Sapporo Campus and held the very first awards ceremony for the Hokkaido-Melbourne Joint Research Workshops Fund. The delegates included Deputy Vice-Chancellor James McCluskey of Research; Pro Vice-Chancellor Justin Zobel of Graduate and International Research; Dean Mark Cassidy of the Faculty of Engineering and Information Technology; Associate Dean Tim Lynch of the Faculty of Arts; Professor Margaret Mayfield representing the Faculty of Science with her fellows, Dr. James Hutchison and Ms. Mika Shimoda of the Faculty of Science; Ms. Maria Roitman and Dr. Mark Gregory of the Chancellery.
The foundation of the partnership of two universities lies on research collaboration on infectious disease by the HU's International Institute for Zoonosis Control and the UoM's Department of Microbiology and Immunology and Peter Doherty Institute for Infection and Immunity, which exchange was promoted by joint appointments of academics under the framework of HU's Global Institution for Collaborative Research and Education (GI-CoRE) since 2014. Then, HU's Research Institute for Electronic Science (RIES) chose the UoM's Faculty of Science as its partner over a JSPS's Core-to-Core project on nanomaterials.
Following the online dialogue between leaderships on research in late 2021, two universities co-organised the HU-UoM Virtual Conference on Healthy Ageing and established the aforementioned Hokkaido-Melbourne Joint Research Workshops Fund in March 2022, to jointly cultivate research collaboration seeds. The 2022 awards for the workshops fund were presented to the five successful research teams from President Kiyohiro Houkin of HU and VC Maskell of UoM: Professor Taro Mori (HU) and Associate Professor Masa Noguchi (UoM) for their workshop the Environmental Experience Design Research for Active Ageing; Associate Professor Kerrin Artemis Jacobs (HU) and Dr. Wilfred Yang Wang (UoM) for their workshop on the Healthy Ageing and the Good Life; Professors Toshiro Ohashi (HU) and Peter Lee (UoM) for their Workshop on Platform Technology for Mechanopharmacology; Professor Hiroshi Uji-I (HU) and Dr. James Hutchison (UoM) for their UoM-Hokkaido Workshop on Therapeutic Nanomaterials; and Drs. Daisuke Sawamura (HU) and Marianne Coleman (UoM) for their workshop on Developing an interdisciplinary component to research-informed international education of the future geriatric allied health worker.
Not only the funded workshops, but there are emerging collaborations on indigenous studies, marsupials, pharmaceutical sciences, etc. and possibilities were positively confirmed by both universities. Delegates visited several facilities and research centers of HU: the International Institute for Zoonosis Control, Research Institute for Electronic Science, Space Mission Centre, Institute for Chemical Reaction Design and Discovery (ICReDD), Proton Beam Therapy Centre, University Hospital, Faculties of Medicine, Engineering, Science, Advanced Life Science, and Media and Communication.
Articles and photos by Institute for the International Collaboration, Hokkaido University