Research Highlight | February 11, 2021
This article is an excerpt from the research magazine "Tackling Global Issues vol.3 Fighting the menace of zoonosis." Click here to see the table of contents.
The University of Zambia and Hokkaido University are long term collaborators in veterinary medicine and zoonoses control. Professor Bernard Mudenda Hang'ombe from the Department of Para-Clinical Studies at the University of Zambia, who is also the Centre Leader of the Africa Centre of Excellence for Infectious Diseases of Humans and Animals, shares his thoughts about the situation in Zambia and collaborations with Hokkaido University.
Zambia is a country endowed with natural resources and wildlife. And so, the challenge in controlling zoonosis here is that hosts of zoonotic diseases move naturally without boundaries. Wildlife can harbor infections which are transmitted when they come into contact with humans. Communities living in rural areas can easily interact with hosts that transmit zoonotic diseases. As new pathogens are being identified in Zambia, the major challenge in the future is the detection of novel pathogens that have not been documented and could cause serious national and international issues.
The collaboration between the University of Zambia and Hokkaido University dates back to 1983, when the School of Veterinary Medicine was established in Zambia, and it has brought a lot of benefits to our university. Our country did not have much capacity in the veterinary field, but now, there are veterinarians even in the most remote parts of the country. This has been augmented by highly trained and specialized manpower who are able to work in a multicultural setting and well-equipped laboratories. Here at our university, we have a high turnover of Ph.D. level staff trained at Hokkaido University in various fields. On the research front, the collaboration has also strengthened the capacity of research, with advanced laboratory support in the diagnosis of dangerous diseases like anthrax, ebola and currently coronavirus.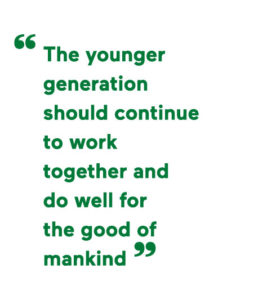 There are direct benefits for both parties. Zambia, for example, has a diverse environment which Hokkaido University undergraduate and postgraduate students can use for practical training. Collaborations have also allowed for joint research funding opportunities with national and international agencies and societies. Government ministries are able to tap into the support offered by our joint laboratories, the capacity of which has been strengthened through our joint efforts in research and education.
Hokkaido University has shown true friendship and mutual respect to the University of Zambia. The younger generation should not be discouraged as every society has good and bad people; they should continue to work together and do well for the good of mankind. Africa has a lot of challenges emanating from society itself. The presence of collaborators from Hokkaido University brings hope in this area of research despite the challenges. They have uplifted us and we will continue cherishing every moment. I really hope that the relationship and fruits from our collaborations will be passed on to younger generations in both Japan and Africa.
Click here to see the table of contents.