Due to differing standards in radio frequencies worldwide, mobile phones from your home country may not work in Japan. Most importantly, there is no GSM network in Japan, so GSM-only phones do not work. Your best bet is to purchase a phone and enter a contract, or get a pre-paid service upon arrival.
Prepaid Phones and SIM Cards
You need to present identification proof such as your Residence Card to obtain a pre-paid service. Some stores may accept foreign passports. Prepaid phones start at around ¥5,000 for a basic model. Depending on what features your phone/contract supports, credit, which is used for outgoing calls, email, internet etc., must be purchased in advance from mobile phone stores or convenience stores. Most companies allow incoming calls to be free but charge outgoing calls.
Subscription Plans
Mobile phones can be purchased at electronics stores or mobile phone shops. Phones are available on a contract, and the price per minute for calls depends on the contract. You may need to take your residence card, passport, and a bank book to sign the contract. You usually have to sign a two year contract with a cell phone carrier. An early termination fee applies if the service is terminated before the end of the contract term.
Kakuyasu SIM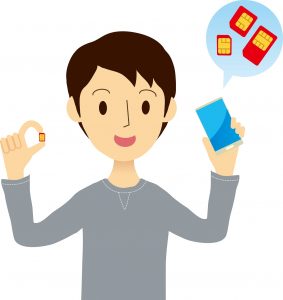 If you have an unlocked smartphone, you might be able to use a "Kakuyasu SIM" plan. Standard smartphone contracts in Japan are usually require a two years long with very expensive early cancellation fees. Kakuyasu SIM plans, on the other hand, allow the contract to be cancelled at any time without fees.
Kakuyasu SIM plans can be divided into three main types (from lowest to highest price): data only; data and text messaging; or data, text messaging, and phone calls. The monthly fee of a Kakuyasu SIM plan ranges from around ¥600-3,000, but you can increase the data amount based on your own usage. However, the first period of the contract period is almost always about ¥3,300.
A residence card, as well as a credit card issued to your name, are required to sign up for a Kakuyasu SIM plan. While there are some companies which do not accept credit cards that were issued outside of Japan, many companies, such as OCN, do.