University News | November 16, 2016
The first Internationalization Strategies Advisory Service (ISAS) Learning Badge Award was handed to President Yamaguchi, Hokkaido University by President Dzulkifli Abdul Razak of the International Association of Universities (IAU) on November 14, 2016, which was the first day of the IAU 15th General Conference held at Chulalongkorn University, Bangkok, Thailand.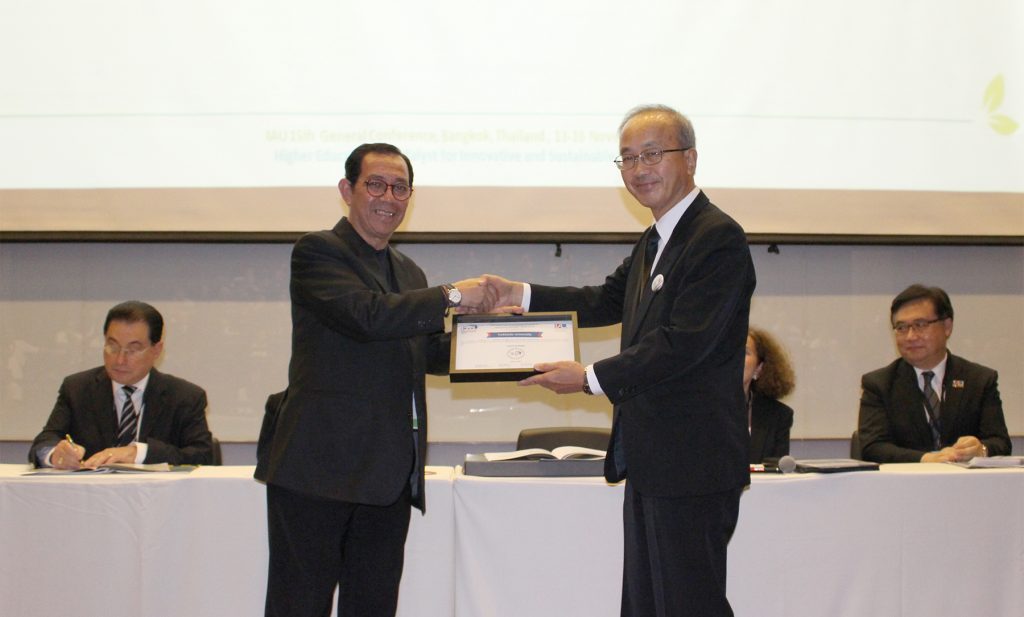 President Keizo Yamaguchi (right) of Hokkaido University receiving the IAU-ISAS 2.0 Learning Badge from President Dzulkifli Abdul Razak (left) of the IAU at the IAU 15th General Conference
Hokkaido University is the first university in the world which has undertaken the ISAS 2.0 program. ISAS 2.0 is a program launched in September 2016 by the IAU for advancing internationalization in higher education. The IAU was founded in 1950 as a UNESCO-based worldwide association for higher education institutions. Among several different services, Hokkaido University undertook the "Assessing Strategy and Monitoring Achievements" strand based on a thorough self-review in the first several months of 2016. Three-day site visit took place at the beginning of October, 2016 with the expert panels consisting of four specialists in university internationalization, university management, and higher education policy in the world; Dr. Madeleine Green, IAU Senior Fellow who chaired the site visit; Professor Akira Ninomiya, President of Hijiyama University, Hiroshima, Japan; Professor Kent Anderson, Deputy Vice-Chancellor of The University of Western Australia; and Dr. Eva Eglon-Polak, IAU Secretary-General.
The first version of ISAS was developed and piloted in collaboration between the IAU and Hokkaido University in 2009-2010. Having adopted many of the recommendations resulting from the review, Hokkaido University succeeded in securing one of the prestigious Top Global University Project grants offered by the Japanese Ministry of Education in 2014. In 2016, Hokkaido University undertook a second ISAS to review the progress made in internationalization over the past five years. Knowledge of the history of the ISAS makes clear that Hokkaido University is also the first university that undertook both ISAS 1.0 and 2.0.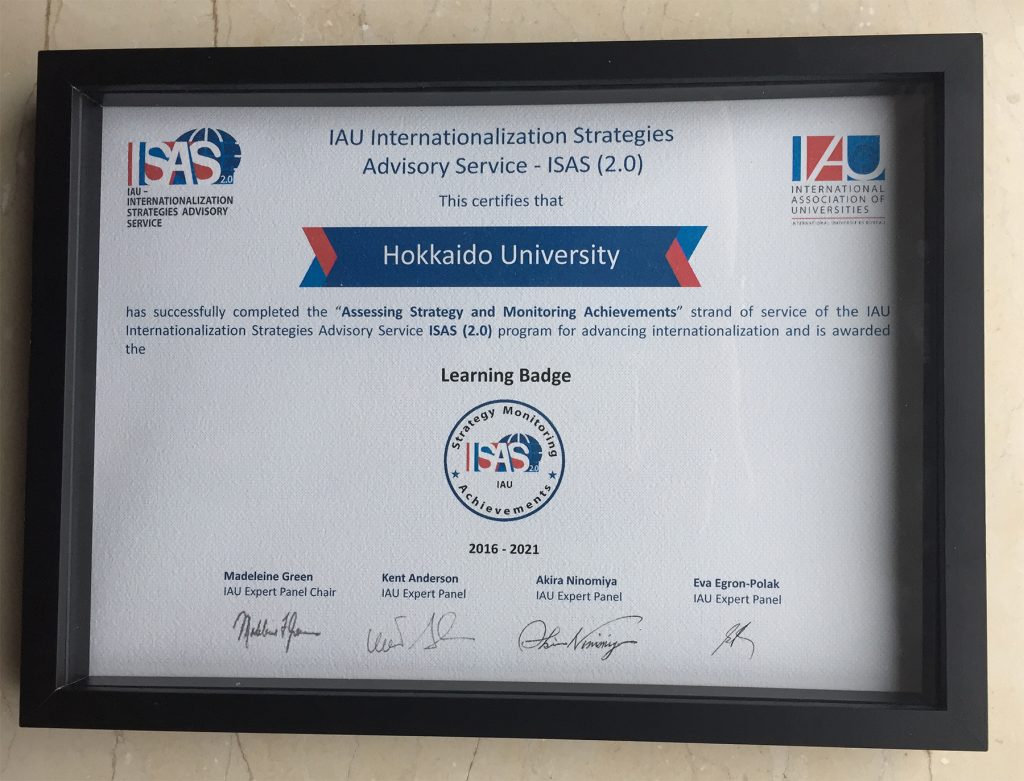 The IAU-ISAS 2.0 Learning Badge certificate
The name of "The IAU Learning Badge for Assessing Strategy and Monitoring Achievements" indicates that Hokkaido University followed the ISAS guidelines thoroughly and made significant progress in furthering internationalization through the process of ISAS 2.0.
The IAU Expert Panel will submit the final report to President Yamaguchi in December, 2016, which will include observations and recommendations for future developments.
More information can be found on the IAU website:
http://www.iau-aiu.net/content/isas-2