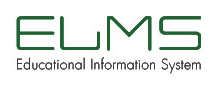 ELMS is Hokkaido University's educational information system for students, faculties, and staff members. Services include an email client and learning management system (LMS). An ELMS-ID and password are needed to use the ELMS client PCs and its web services.
Please login to use the Education and Learning Management System (ELMS) Portal. You will need to change your password if you are logging in using a temporary password. If you forgot your ID or password, please present your Student ID to the ELMS Center (Window 5, Institute for the Advancement of Higher Education).
Staff and Faculty:
If you have an ID and it's your first time to login to ELMS, please login from the SSO (Single Sign-On) System instead. You cannot login from the link above.
To users who were using ELMS before February 2015:
The old ELMS was used until February 28th, 2015. Since the transition period between the two systems has already ended, all remaining data (e.g. emails) from the old system cannot be transferred over.
ELMS Center opening hours:
Monday to Friday (excluding holidays)
8:30-18:15 during term time
8:30-12:15, 13:00-17:00 outside term time