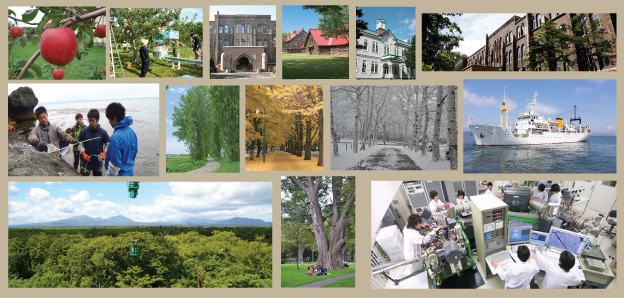 Hokkaido University is one of the oldest, largest, and most prestigious universities in Japan. Boasting the largest number of faculties of Japan's national universities, we cover almost all areas of the humanities and social and natural sciences and are leader in research activities in Japan and the world. Our alumni include a Nobel laureate, business leaders, research pioneers, artists and writers.
Our graduates benefit from the University's determination to develop curious minds that are ready to embrace challenges and acquire knowledge, reveal new global perspectives and find solutions which change society for the better.
In 2014, Hokkaido University was ranked 39th  in the QS World University Rankings in the field of Agriculture/Forestry and within the top 100 in six fields―Chemistry, Chemical Engineering, Materials Science, Biological Sciences, and Earth/Ocean Sciences. Since our inclusion as one of the Imperial Universities back in 1907, we have remained in the top tier of universities in Japan.
We offer a broad-based educational experience, world-class research facilities, and all the attractions of living in the cosmopolitan city of Sapporo. The atmosphere is warm and welcoming, our campuses clean and safe, and we are located in a breath-takingly beautiful setting.
Take a journey and discover Hokkaido University for yourself.