Notice: The Tokyo Office is temporarily closed until the State of Emergency is lifted in the area to help prevent the spread of COVID-19. (The schedule is subject to change.)

The Hokkaido University Tokyo Office is located in the Sapia Tower at the Nihonbashi Exit of JR Tokyo Station. The office is equipped with PCs, a fax machine, a copy machine (which can print in color), LCD projector facilities, a video conferencing system, workspaces, small-conference facilities (for up to 8 people), large-conference facilities (for up to 20 people) and more. Please feel free to come and use the facilities. Reservations are required to use the conference facilities and related equipment. Anyone is welcome to visit the office.
---
Guests must have an IC card enabling access to the Sapia Tower to enter the Tokyo Office. These can be obtained at the Sapia Tower general reception on the 3rd floor after the visitor registration procedures outlined below have been completed:
Fill out a visitor registration form at the reception desk on the 3rd floor.

Show either two business cards or a photo ID (e.g., a student ID card, driver's license or passport).
Hold the guest card to the reader at the security gate on the 3rd floor to open the gate.
Take the elevator to the Tokyo Office on the 10th floor.
When finished, return the guest card to the reception desk after passing through the security gate on the 3rd floor.
Use of PCs to check e-mail, perform research online, etc.

Use of the fax and copy machines.
Leave conference and other materials
Use the facilities to hold research meetings, conferences, etc.
Hokkaido University PR publications available.
Information on Hokkaido University's entrance examinations available.
Approximately 27 minutes from Haneda Airport to the JR Tokyo Station via the Tokyo Monorail and JR Yamanote Line.
Walk from JR Tokyo Station's Yaesu North Exit ticket gate to the Nihonbashi Exit. The office is about two minutes on foot. The location of the office can be found here.
Open weekdays from 10:00 a.m. to 6:00 p.m. Closed on Saturdays, Sundays, and national holidays (including the New Year holidays from December 29th to January 3rd).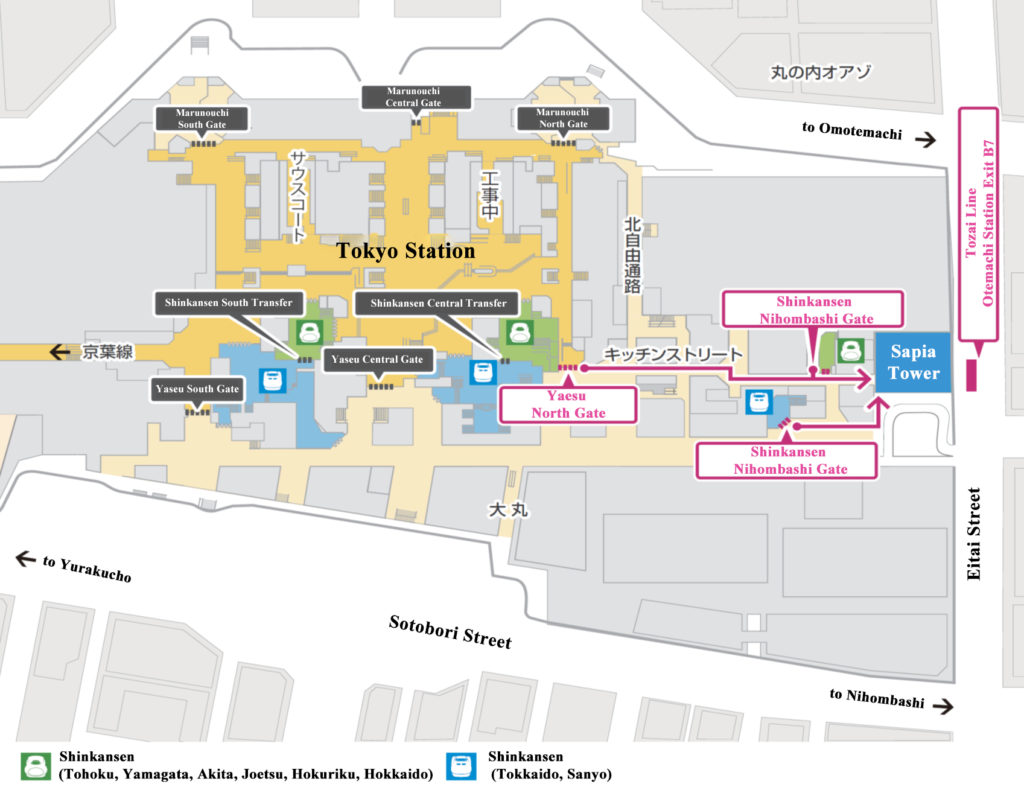 Hokkaido University staff/faculty members and students qualify for special discount rates for the Hotel Metropolitan Marunouchi in the Sapia Tower. For more information, please contact the Tokyo Office reception desk or the Public Relations Division of the Hokkaido University General Affairs Department.
Tokyo Office:
Sapia Tower 10F, Marunouchi 1-chome 7-12, Chiyoda-ku, Tokyo 100-0005
Tel. & Fax: +81-(0)3-3211-2055
E-mail: tokyo[at]general.hokudai.ac.jp
PR Division:
Tel. +81-(0)11-706-2610
E-mail: kouhou[at]jimu.hokudai.ac.jp