The Elm Forest Shop "Elm no Mori", which is a part of the Information Center, should really be your first destination if you're looking to buy official Hokkaido University Goods. You can also purchase stationery items and books published by the Hokkaido University Press. It is located on the left-hand side just as you enter the main gate. Come and visit us today!
Introducing some official Hokkaido University Goods:
Hokkaido University Diploma Frame
This solid, flat wooden frame is matted in HU green and is just the right size for your diploma. The university symbol and the words "Hokkaido University" are embossed in gold.




This is a limited offer.
*Frame size: 288 x 379 mm (20mm thick)
*Price: 6,980 yen (tax excluded)
*Also available with "Hokkaido University" in kanji: 北海道大学
Orders can be made in person in the shop or submitted by faxing the order form to 011-708-0389, or phoning 0120-0656-38. Note that the reception operates only in Japanese).
---
Milk Cookies "Sapporo Agricultural College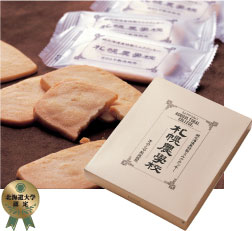 These exquisite cookies famously use the
delicious milk of Hokkaido cows and make
the perfect gift or take home item.
12 pack: 540 yen
24 pack: 1,080 yen
48 pack: 2,160 yen
---
Delicious Ham "Eien-no-sachi"
This unique tasting ham is produced using traditions and love developed over generations.




650 g loin ham: 5,400 yen

650 g pressed ham: 3,564 yen

Assorted pack: 8,964 yen
---
Japanese Sake "Poplar Avenue"
Daiginjo

This aromatic Japanese sake has a subtle taste and is named after the famous row of Poplar trees on campus which dates back over a century.

500 ml bottle: 2,900 yen

Junmaishu

The rice used to produce this rich tasting sake is home-grown on the Experimental Farm of Sapporo campus by the Field Science Center for Northern Biosphere.

500 ml bottle: 2,400 yen
---
Japanese Sake Liqueur "Snow Angels"
Blueberry (left)

Using delicious Hokkaido-grown blueberries, this liqueur contains many antioxidants and has been known to help with eye fatigue. It has a Japanese sake base, so you can drink it either on the rocks, or with a splash of soda water.

180 ml bottle: 822 yen

Plum (right)

The snow crystals etched on this bottle of delicious apricot liqueur were fashioned by the Institute of Low Temperature Science, Hokkaido University. Enjoy the liqueur's delicate apricot zest and sweet aroma.

180 ml bottle: 822 yen
---
The above list is merely a sample of the large range of official Hokkaido University goods available. Please take a look at our online shop (in Japanese).