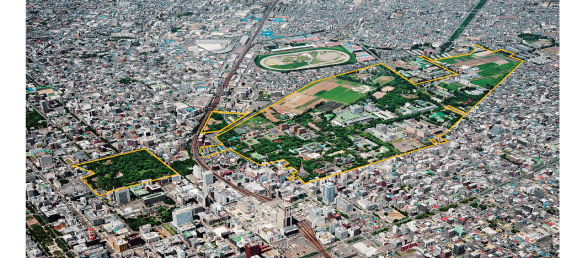 Want a detailed map of the campus to locate our departments, campus shops, ATMs, eateries, and landmarks? Click here for an interactive map!
Printable version is also available in multiple languages, click here to access the Campus Guide Map.
Getting Here:
I'm at New Chitose Airport!
Train:
We strongly recommend catching the 40 minute JR Rapid Airport Line from the airport to Sapporo Station which runs every 15 minutes.
Fare: Adult 1,070 yen/Child 530 yen
Bus:
An express bus, known as the Chuo Bus/Hokuto Kotsu Bus also departs from New Chitose Airport bound for Sapporo station and takes approximately 70 minutes.
Fare: Adult 1,030 yen/Child 520 yen 
---
 I'm at Sapporo Station!
Walk (7 mins):
After arriving at Sapporo station, it is a short walk to the main gate of the campus. Upon disembarking the train, aim for the west ticket gates and then take the north exit out of the station. Walk down the stairs, cross the pedestrian crossing and veer to the right of the Sunkus Convenience Store. Walk straight, passing the North Pacific Bank on your left, and continue for 4 minutes until you reach an intersection with a Mos Burger on the right and a car park on your left. This is the North 9, West 3 intersection. Turn left here and walk straight to the Main Gate of the campus.
Taxi (5 mins):
If you have luggage or are due to arrive on a snowy or rainy day, we advise catching a taxi from the station to the university. A taxi fare usually starts at and should not be much more than around 700 yen due to the close proximity of the university.
Subway (5 mins + walk):
Take the Namboku Subway Line heading towards Asabu at Sapporo Station and get off at the next stop, Kita 12-jo. It's about a 10 minute walk from there to the university. Once you exit the station, follow the signs to the university. Subway fares are 200 yen for a single trip.
---
 I'm lost on campus!
It's a big campus! Use our maps program to find where you need to go.
---
Note: the information above applies to the university's Sapporo Campus only.
For information about public transport to/from the Hakodate Campus, please click here.